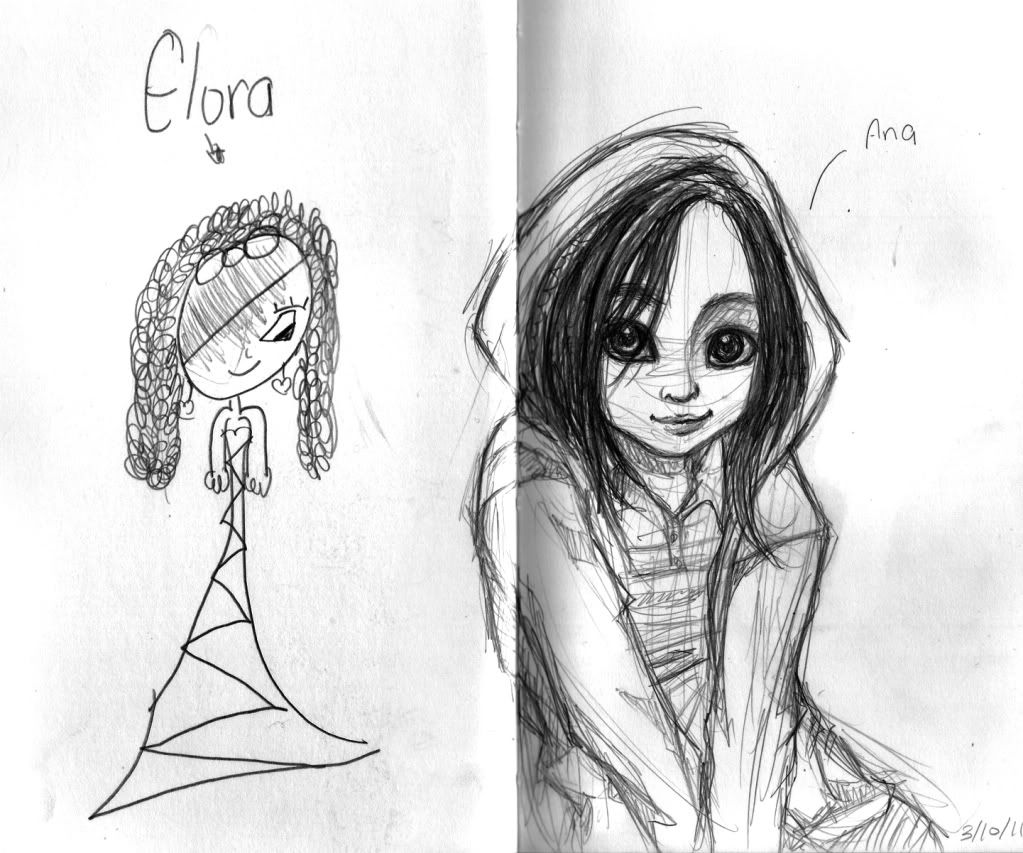 Alright...I just HAD to post this! HAHA! I wonder if Ana would be upset if she knew... xD
So yesterday I took my lil sis out to Downtown Disney and I had dinner at the Jazz Kitchen Express and got her some beignets...which she had never tried. She loved them! :D Anyway. I let her look through my sketchbook and then she decided to draw me, if I drew her. So that's me on the left! I think it is BEYONNNNDDD adorable, and she did a wonderful job! Even though I have curly hair and am wearing a gown... haha! She said she doesn't know how to draw straight hair so she always draws it curly. :) It's alright. I've had a perm before. But yeah, then I drew her afterwards on the right there. It's no match to hers though! :) Then she wrote her name~
This being a big sister thing is another dream come true for me...I look forward to my lil sister outing and CDA days throughout the whole week! Because these all usually fall toward the end of it.
I noticed that Lisa left a comment on my previous sister related post and I didn't see it till now. I really need to find that stupid setting that emails me notifications when someone comments! ~___~ Anyway, the answer is that...having a little sister is great. And Ana is so much more than I could ever ask for. :) She's not difficult at all, and she's suchhhh a sweet girl! I feel so privileged to know that I'm having some kind of impression on her...and I'm just really grateful that she likes me. :) We have so much fun together, and I can't believe how PERFECT she is for me! LIKE REALLLLLLLYYYY!!!! I'm just so psyched to have an impact on her life! It's crazy!
Now I'm gonna do some advertising, because
Big Brothers and Big Sisters
really need volunteers. There are tons of kids waiting for Bigs, and not enough Bigs going around...so it's really unfortunate. It's an amazing program, and for such a great cause...I recruited 3 big sisters at work today and it was a super great feeling. :) I hope I can recruit more, because really...it's really worth it to change the world one kid at a time. Whoever is reading this, click here and PLEASE CONSIDER IT!!!! It's only a small commitment (min twice a month, 4 hours, max once a week) and it's totally worth it...and funnnnn too!!! :) So again.
CLICK HERE AND BE A BIG!!!
:D